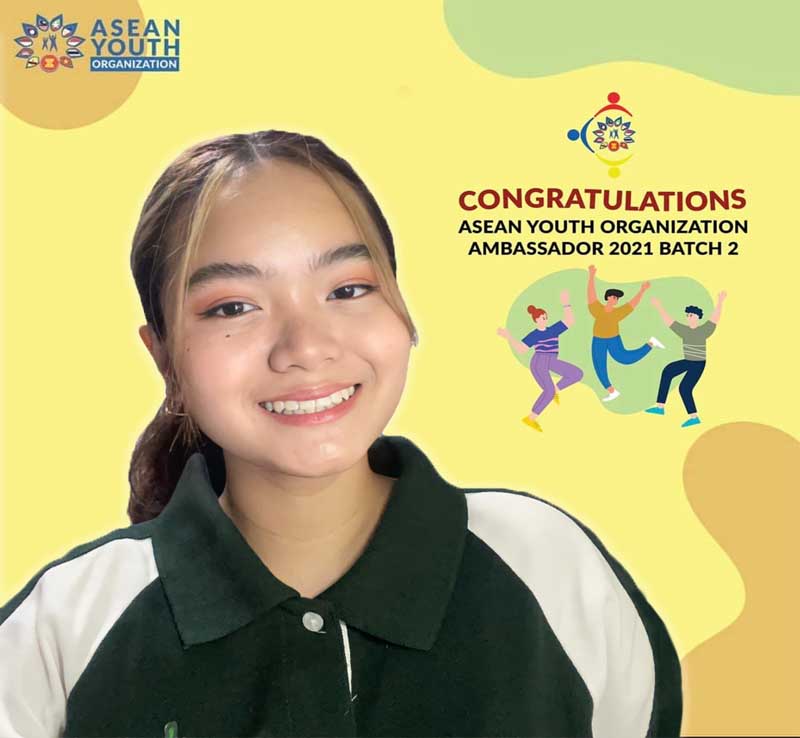 Out of 900 applicants from all over the ASEAN region, DLSU-D Senior High student Carla Mariela A. Cuya was selected as one of the 75 new ASEAN Youth Ambassadors for 2021.
The ASEAN Youth Organization (AYO) Ambassador program is among the the programs initiated by the ASEAN Youth Organization. It seeks to establish an ASEAN-wide network of youths who will serve as the point lead for outreach in a designated region especially in pushing for the Sustainable Development Goals (SDGs).
Cuya, a Grade 12 STEM student and currently the secretary of DLSU-D High School Commission on Elections (COMELEC), submitted an application video espousing her advocacy on SDGs 1: No Poverty, 4: Quality Education, and 16: Peace, Justice, and Strong Institutions.
"As a youth, it is an honor for me to connect with other peers to be an advocate for change together and wherever possible. I believe that young people must come together to hone and foster leadership growth and networking skills in order to create a better future for the Philippines and the world. This is a wonderful opportunity for me to engage with people from ASEAN countries at such a young age. I joined this ambassador program to explore more about ASEAN challenges and how young people like me can make a difference. My interest in humanities, cultures, and diversity also influenced my decision in applying to this program, " she said.
She also acknowledged her family and her DLSU-D family for inspiring her and allowing her to achieve her goals. She also expressed gratitude for the opportunities to hone her leadership skills.
"I am forever thankful to my Lasallian community for believing in me and helping to shape who I am today", Cuya added.