---
Students who are interested in pursuing a career in law enforcement will benefit from the programs offered by De La Salle University-Dasmariñas' College of Criminal Justice Education. With a curriculum that incorporates the Lasallian values of faith, zeal, and service, graduates emerge from the program with a fine understanding of the due process of law, Constitutional guarantees and respect for human rights. Armed with updated theories and strategies on law enforcement, graduates of the program are able to cope with the demands of their profession easily.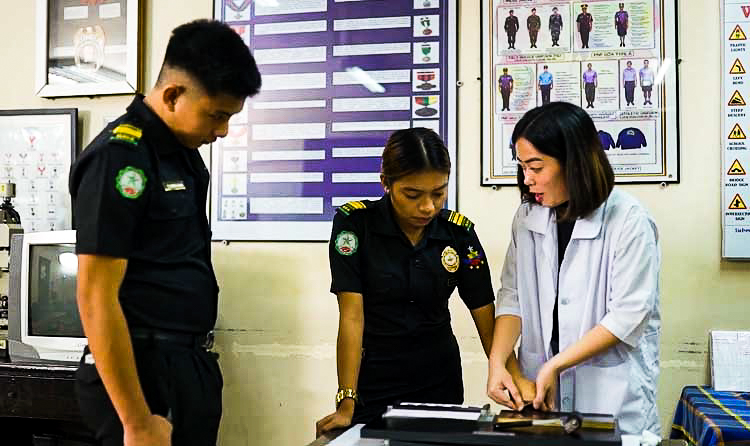 Bachelor of Science in Criminology
The program seeks to promote responsible attitude among students through the assimilation of a noble concept of citizenship and leadership, the understanding of their moral and legal responsibilities to their fellowmen, community, and country; and the development of the ideals, attitudes, and habits needed to become responsible officers.
Mga Babasahin hinggil sa Kasaysayan ng Pilipinas
Diskurso sa Filipino
English in a Lasallian Context
Environmental Science
Our Christian Faith and Lasallian Identity
Military Science 11
The Authentic Lasallian Learner
Introduction to Criminology
Law Enforcement Organization and Administration (Inter-Agency Approach)
Introduction to Philippine Criminal Justice System
Understanding the Self (General Psychology)
Math in the Modern World (Plane Trigonometry)
Purposive English
Kursong Rizal
Pagsasaling Teknikal sa Larangang Akademiko
Christian Discipleship in the Modern World
Military Science 12
Career Path towards Success
Theories of Crime Causation
Arnis and Disarming Tactics
Fundamentals of Criminal Investigation and Intelligence
Art Appreciation
Ethics
Sosyedad at Kultura sa Talakayang Filipino
Christian Commitment in Contemporary Society
Human Behavior and Victimology
Comparative Models in Policing
Introduction to Industrial Security Concepts
First Aid and Water Safety
Forensic Photography with laboratory
Nationalism and Patriotism
Panitikang Pilipino
Classic Literatures of the World
General Chemistry (Organic) with laboratory
The Catholic Social Teachings and our Social Response
Institutional Corrections
Special Crime Investigation 1 with Legal Medicine
Personal Identification Techniques with laboratory
Law Enforcement Operations and Planning with Crime Mapping
Professional Conduct and Ethical Standards
Fundamentals of Marksmanship
Human Rights Education
Leadership, Decision-Making, Management and Administration
Specialized Crime Investigation 2 with simulation on Interrogation and Interview
Forensic Chemistry & Toxicology with laboratory
Criminal Law (Book 1)
Traffic Management and Accident Investigation with Driving
Juvenile Delinquency and Juvenile Justice System
Dispute Resolution and Crises/Incidents Management
Criminological Research 1 (Research Methods with Applied Statistics)
Contemporary World
Science, Technology and Society
Non-Institutional Corrections
Criminal Law (Book 2)
Questioned Documents Examination with laboratory
Lie Detection Techniques with laboratory
Investigative Report Writing and Presentation
Fire Protection and Arson Investigation
Thesis Writing and Presentation
Therapeutic Modalities
Evidence
Vice and Drug Educaiton and Control
Legal Forms
Special Topics 1
Internship 1
Forensic Ballistics with laboratory
Criminal Procedure and Court Testimony
Introduction to Cyber Crime and Environmental Laws and Protection with laboratory
Special Topics 2
Internship 2
An applicant who has completed Senior High School and has not taken any college course, or
An applicant who has completed equivalent Secondary Education from any school abroad and has not taken any college course, or
A passer of Alternative Learning System (ALS) with certification of eligibility to be admitted to college.
An applicant who has taken college programs or units not more than 75% of his/her curriculum in other CHED recognized colleges or universities, or
An applicant who has taken college programs or units not more than 75% of his/her curriculum in colleges or universities abroad, OR
An applicant who has taken vocational or any special training in recognized colleges or universities abroad, OR
An applicant who has officially enrolled in any degree or certificate programs after High School.
An applicant who has completed any college degree from any CHEd recognized college or university, or
An applicant who has completed any college degree from college or university abroad.
The College of Criminal Justice Education conforms with the institutional policies for admitting freshmen.
Additional requirements for freshmen
Male applicants should at least be 1 meter and 62.5 centimeters in height, whereas female applicants should be 1 meter and 57.5 centimeters.
Male applicants should not have long hair, tattoo, moustache, beard, and earrings.
A student who intends to shift to any program of the College should obtain a GPA of at least 80% (or 2.0 in the numerical grading system), incur no failing grade in any academic or non-academic subject, and pass the interview conducted by the Dean or his designate.
A student from another school who intends to transfer to the College should observe these requirements:
GPA of at least 80%
Submission Of The Following Documents: recommendation letters or certification of good moral character, police clearance, transfer credential, certification of grades or transcript marked "for evaluation purposes only,"- passed the interview conducted by the Dean or his designate, and passed DLSU-Dasmariñas entrance examination.
A transferee shall be placed on probation for one semester. If he performs well in academics and manifests upright behavior, he shall be considered a regular student the following semester.
Other requirements for Upperclassmen
Barangay Clearance and Police Clearance during enrollment
Height Requirement:5' (Female) 5'2" (Male)
Photocopy of grades from the previous semester (please bring original copy)
2x3 haircut for all male students; Haircuts will also be monitored before major exam week
No dyeing of hair
No tattoos
No earrings (male)
No beard/mustache
NOTE: Failure to comply with the above rules and regulations will be a basis for this College to deny admission for student's enrollment the following semester.
A student who accumulates 24 academic units of failures at the end of the semester of any school year is considered ineligible to enroll in the succeeding semester. However, if there were only 48 academic units left before graduation, the student would still be allowed to enroll provided a deloading of three (3) academic units is made to allow for a better academic performance during the semester.
The corresponding units of subjects retaken and then passed with a grade of 2.00 or better shall be deducted from the accumulated units of failures. The failing mark however, will still appear in the official transcript of records.