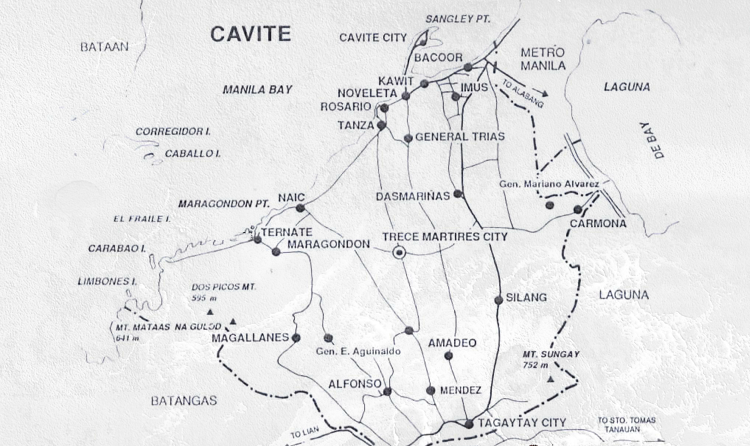 Overview
Cavite province, with its unique culture and rich tradition, has become the most populated province in the Philippines with over three million inhabitants in an area of 1,512.4 km. Industrialization policies in the 1990s which brought industrial zones also opened up business opportunities ranging from real estate to service oriented industries. Cavite's proximity to Metro Manila and in-migration in search of job opportunities have contributed to population expansion. This population growth scenario puts enormous stress on the environment, particularly on water, food security, waste disposal, land use management, traffic, housing needs and adequate infrastructure to mention a few. Obviously, these issues concern the current and future generations.
To address these concerns, the President of De La Salle University Dasmarinas, Br. Augustine Boquer, has called for a 50-year Cavite Development Research Program to supplement the De La Salle University-Dasmariñas Institutional Research Thrusts which already focuses on environmental issues, entrepreneurship, corporate social responsibility, socio-anthropological dimensions of Cavite, communication and language, intervention programs for LGUs and innovations in instruction.
CDRP and DLSUD-IRT defines four major clusters of inter-related research areas with research questions to provide focus. The list of research questions from each thrust area falls along a continuum running from an independent core discipline-based research to an interdisciplinary or multidisciplinary research, among others.
Mission Statement
CDRP proposes to organize quality research into four inter-related mission areas to benefit the province of Cavite's quest for sustainable economic, social and environmental development:
Agriculture, land use and environmental impacts – This focuses on land use, agricultural and industrial activities on the environment including emissions and carbon neutral strategies;
Urban systems and applied technology – This examines land use and transportation issues including earthquake sources, and lack of R&D for innovations;
Eco-tourism and enterprise development – This evaluates entrepreneurial product innovations, environmental friendly eco-tourism measures and corporate social responsibility; and
Good governance and cultural heritage analysis – This looks at ways to improve governance structure and provide better understanding of historical perspectives of Cavite province.
Key Goal of CDRP
To use cross disciplinary research collaborations to develop high quality research output that will contribute to economic growth, social development and environmental sustainability of the province of Cavite for the next 50 years.
Strategies and Action Plans
The action plans capture the priorities set forth by CDRP for the first initial 10 years and beyond.
2011-2016
Conduct workshops to enhance institutional research capacities and form advisory group
Draft roadmap and identify research gaps
Launch Cavite Development Research Program
Identify potential funding sources and initiate MOAs
Disseminate research findings to stakeholders
Establish research centers
Establish local and national awards for research on CDRP
2017 – 2021
Broaden funding base
International Financial Organizations ( UN, ADB)
Government and foreign agencies
NGOs
Private Organizations including companies
Commission on Higher Education
2022 and beyond
Improve quality of research
Strengthen national and international network
Establish endowment funds for each research thrust area
Seek wider medium for research output dissemination
View
the complete
Cavite Development Research Program