Home | News | Flora and Fauna: Battling Against Climate Change and Extinction webinar
---
Flora and Fauna: Battling Against Climate Change and Extinction webinar
May 18, 2021 | By LS Verde
---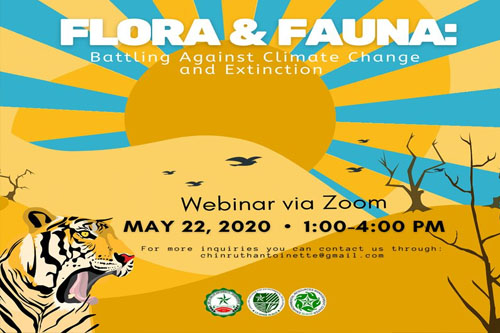 Species of different plants and animals are at risk of extinction because humans continue to exploit them, and destroy the environment they live in. If humans continue to neglect and lay waste on nature, we may never have the chance to see vast horizons of land, filled with thousands of flora species and teeming with thousands of fauna species.
In celebration of the Biodiversity Day on May 22, 2021, LS VERDE held a webinar entitled, "Flora and Fauna: Battling Against Climate Change and Extinction.
This webinar focuses on acknowledging the damages humans did towards nature through destructive human activities, how it gravely affects all creatures in the ecosystem, and the importance of taking concrete action in order to protect our endangered flora and fauna species.
It is both our collective and individual duty to protect and care for the environment, along with all the flora and fauna in it.
Watch the full video: https://www.facebook.com/LSVERDE/videos/519928079186782
---