Home | Sustainable Programs | Energy and Climate Change
Energy and Climate Change
---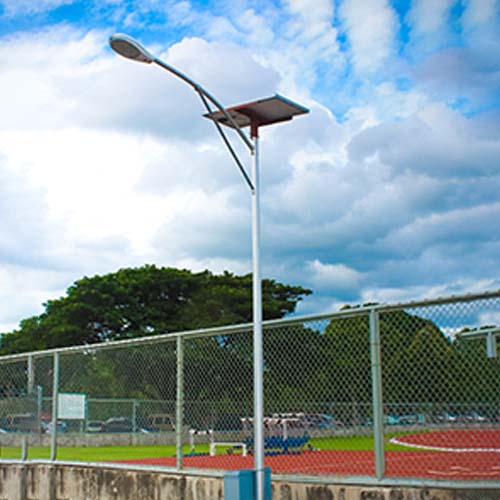 DLSU-D prides itself in its commitment to adopting clean sources of energy for its operations and advocating for climate change solutions.
---
BLACK OUT! GREEN IN!
This program is part of De la Salle Philippines' initiative to become a carbon-neutral university. It does not simply present innovative ways to offer the university's carbon footprint and mitigate carbon emissions; it also educates and challenges the DLSU-D community o to become involved in the fight against human-induced climate change.
---
Laudato Si
The University has been an active partner of the Laudato Si Movement since 2019 and actively participated in various initiatives that help implement the principles and ideals reflected in Pope Francis' encyclical Laudato Si. The University is in the process of setting directions and finalizing plans for the implementation of the Laudato Si Action platforms, to which it is one of the signatories.
---
Climate Education
The LCDC staged the Climate Change Webinar Series entitled FoRest: Fully Recharged! attended by 900 participants. The activity was an online seminar which highlighted conservation of nature because as people takes care of our forest, it also helps protect the future as it provides the essential resources for survival and employment.
---
Green Energy
DLSU-D is powered by 60 percent geothermal energy, a clean source of power.
---
Solar Lamp Posts
As part of the University's sustainability efforts under the award winning "Black Out! Green In." campaign, DLSU-D installed two solar lamp posts located at the left side of the University Grandstand. The solar lamp posts utilize energy coming from batteries during nighttime and are recharged by sunlight during the day, producing almost zero carbon footprint.
The 300-meter stretch is now illuminated by LED lights powered by energy stored from sunlight. The move saves the University 2,000 KW of electricity per year and reduces its carbon footprint by 1,800 tons of greenhouse gases.
---
Energy Efficient Appliances
From previous flourescent lighting, the campus is shifting to the use of LED lamps as well as inverter type appliances to minimize carbon footprint.These measures resulted in reduced Kwh consumption. As of August 2022, 12,383 of the University's 14,159 lights or a total of 87.46% percent has already been converted to LED lighting. Majority of air conditioning units on campus have also shifted to energy efficient models. As of the same period, 631 out of 1,101 units or 57.31 percent are inverter type units. This puts DLSU-D's total energy efficient appliances to 72.40% percent.
---
Reduced Energy Consumption
In 2021, DLSU-D's energy consumption dropped from 1, 294, 063 kWh in 2020 to 1, 768, 052 kWh. This translates to a 59.35% reduction from the previous year's consumption. This can be attributed to the hybrid work arrangement adopted by the University in response to the community quarantine guidelines set by the government due to COVID-19.
---
Microclimate
Based on studies, the temperature within the DLSU-D campus is 2 degrees cooler than its external environment. This can be atrributed to the rich biodoversity in campus.
---
Online Learning
A study conducted by Lasallian faculty members indicated that online classes that DLSU-D has made as a part of the curriculum hhas reduced the student's carbon footprint by 71.44 % translating to 45.77 kg per class session compared to conventional face to face method of delivery.
---
DLSU-D Animo Zero Waste Program
AlterNative Ideas and Mechanisms On Zero-waste or ANIMO Zero-waste! is a five-year program of the DLSU-D High School in partnership with the Environmental Resources Management Center on solid waste management that is targeted towards policy, systems, education, research, and extension.
---
Zero Waste Lifestyle
De La Salle University-Dasmarinas was one of the first universities to sign the declaration of the First Symposium for Schools to Adopt the Zero Waste Lifestyle (ATZWL).
---
Limited number of cars allowed on campus
The General Services Office instituted a policy allowing only two persons per student or family to avail of car stickers, limiting the entry of vehicles inside the campus.
---
Tree Planting
The University has actively partnered with the government and De La Salle Philippines in its tree-planting activities. Right now, DLSU-D has three major adopted planting sites namely: Lian, Batangas (mangrove), Mt. Palay-Palay (land-based plants), and Noveleta, Cavite (mangrove). More tree planting sites will be adopted by DLSU-D next school especially in Cavite where the lowland areas will be much affected by climate change.
---
Establishment of Seedling Bank for Native and Indigenous Trees
Campus Sustainability Office established the DLSU-D Seedling Bank and Nursery of Philippine Native Trees to promote the proliferation of Philippine hardwood and fruit-bearing trees, and become a source of seedlings for the University's tree planting activities to reduce DLSU-D's carbon footprint.
---