Home | Sustainable Programs | Sustainable Transportation
Sustainable Transportation
---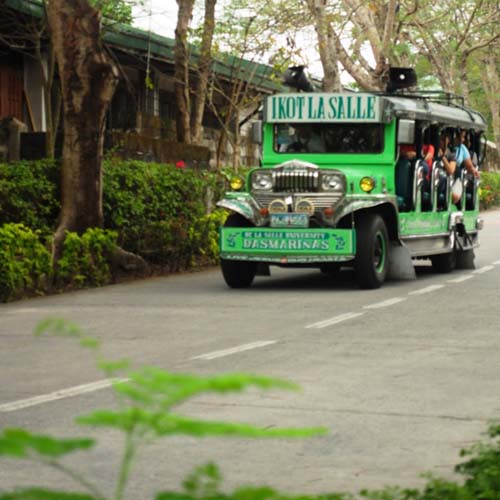 De La Salle University-Dasmariñas strongly advocates for sustainable transportation alternatives to minimize the University's carbon footprint. As such, it encourages walking, cycling, transit, carpooling, car sharing, and green vehicles. Its policies are also targeted towards preventing pollution.
'
---
Electronic Jeep Shuttle Service
The POLCA purchased an electronic jeepney for its IKOT La Salle to provide an environmentally friendly means of transportation for the Lasallian community for a minimal fare. The E-jeep started plying the DLSU-D campus in 2009.
---
Pedestrian safety
Pedestrian lanes are marked on campus. Accessibility features are also implemented in compliance with national laws. Ramps and guiding blocks adopt a suitable design for pedestrians with physical disabilities. A 10 kph maximum speed limit has been set for all vehicles plying the campus.
---
More eco-friendly vehicles
More employees and students have started to opt for eco-friendly vehicles such as electric motorcycles and e-scooters to travel to and within campus.
---
Cycling Campaign
As part of the University's carbon-neutral campaign, the University strongly encourages biking as a sustainable option to get to work and get around the campus. To support this advocacy, the Faculty Association also purchased several bicycles to be rented out to members of the community.
---
Reduced vehicle entry
There was a reduced number of cars and motorcycles that entered the campus from August 2020- August 2021. Data from the General Services Office indicated that only 113 vehicles came into the campus for the period, comprised of 11 vehicles managed by the university, 70 from employees and guests, and 32 motorcycles