Home | Sustainable Programs | Green Economy
Green Economy
---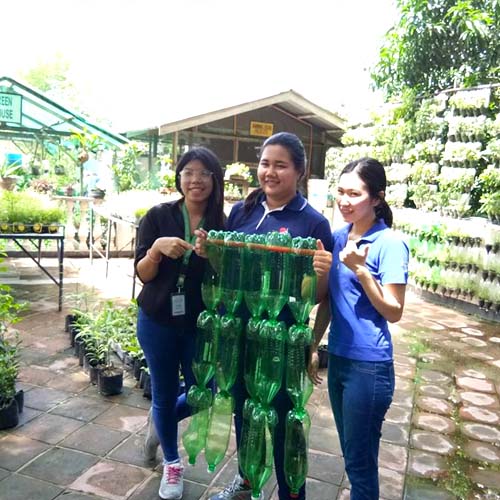 The University actively advocates for green economy.
Among the enterprise activities being undertaken by the Campus Sustainability Office in particular are the selling of composts and seedlings from the Ecology Center, as well as the recovered recyclables from DLSU-D's Material Recovery Facility.
The Campus Sustainability Office also spearheaded the VERDE Garden Environment Workshop to promote sustainable practices in urban gardening. Modified set ups are also sold during these events.
The proceeds from these activities count as a source of income for the University's Environment Trust Fund.
---
LasalleDa Trade Bazaar
The trade bazaar which is a project of DLSU-D since 2008, is managed by the Lasallian Community Development Center (LCDC) to provide a venue to respond to the needs of its partners. One of the major thrusts and concerns of LCDC is to assist the different economic activities of its partner communities and organizations by providing them venue inside the university to market and promote their products through Trade Bazaar Projects. With restrictions brought on by health protocols imposed by the government amid the pandemic, the bazaar took on a different form and transitioned to the online platform. The LasalleDa is DLSU-D's Virtual Bazaar organized by the Advancement and Resource Generation Office (ARGO) and a Technical Working Group. The live selling event seeks to generate funds for the One La Salle Scholarship Endowment Fund and connect partner establishments with the network of Lasallian faculty, students, staff, and alumni. It provides a platform for small and medium enterprises to market their sustainable products.
---
PINYAGALING: Professional Inculcation Yearning for Ardent Gain of Living
A community extension project for employment generating by nature and it aims to provide personal and professional development to the night class students of Hotel and Restaurant Management Program.
---
Emergency First Aid and Basic Life Support Training
The Emergency First Aid and Basic Life Support Training is available upon request from the Lasallian Community Development Center. It is part of the Disaster Risk Reduction Program of LCDC that promotes a culture of safety and disaster preparedness. The training is designed to provide practical lifesaving skills to the different sectors within the university for a minimal fee to cover the materials needed for the training, as well as the certification of participants. This also serves as a resource generation to support the different Disaster Risk Reduction projects of the University.
---
Social Development Fund
The Social Development Fund (SDF) aims to support the extension programs of the institution. It is a proof that the university puts premium to its social development and community extension programs being an important part of the thrust and vision-mission of the university. The fund is proposed and created by the Lasallian Community Development Center to support and operationalize LCDC special projects, community-based researches, scholarships and existing extension programs of the university to augment expenses in implementing sustainable projects with students, departments, offices and other sectors.