---
Birds of DLSU-D
---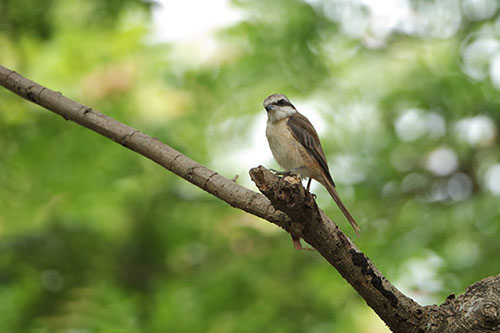 Researchers at De La Salle University-Dasmariñas have recently discovered a 65 percent increase in the number of bird species found within campus, as testament to the University's efforts to conserve and protect its biodiversity.
In a study conducted by DLSU-D researchers Marlon Pareja, Lionelle Uytico, Niñokay Beceril, Maria Jessica Delos Reyes, Leonora Nares, Jackie Lou Wenceslao, and Josephine Rodelas, the team found a total of 34 species of birds comprising of eight Philippine endemic species, four migratory species and 22 new recorded bird species within the sampling area. This brings the total number of species to 34 compared to 2010 data identifying only 10 species on campus.
Aside from the marked increase in the population, rare species were also found within the University, such as the Vulnerable Java sparrow (Lonchura oryzivora), listed as threatened under IUCN Red List of Threatened Species in 2015, along with forest and forest edge species such as as the Striped flowerpecker (Dicaeum aeruginosum), Yellowish white-eye (Zosterops nigrorum), Philippine Scoops-Owl (Otus megalotis) and Copper-smith barbet (Megalaima haemacephala).
The study, conducted in partnership with Biodiversity and Watersheds Center for Sustainable Development (BRAVE) Inc., sought to assess the birds profile and identify key areas for conservation.
DLSU-D as a Bird Sanctuary
According to chief researcher Marlon Pareja, the former director of the Campus Sustainability Office of DLSU-D, one of the opportunities they are eyeing is the development of the University as a haven for bird watchers and a potential ecotourism site.
Actually that's one of the major purpose when we conducted the study. We submitted this report to the DENR because we want to be recognized as a bird sanctuary. If you become a bird sanctuary, it means that we have a conscious effort to take care of their habitat," Pareja said.
He further explained that taking care of the birds is not only exclusive to the bird population, but extends to the entire habitat. "You have to take care of the ecosystem. You cannot simply cut down trees . We do not put birds in cages and we simply let them roam free and take care of their homes," he further explained.
Based on the current practice, DLSU-D maintain s its 1,396 resident trees only by trimming to ensure that chemicals and pesticides do not contaminate the fruits that are being consumed by the University's avian population.
"I'm saying this as a researcher, the most important outcome of this study is that it highlights the need to protect their (birds') habitat and protecting their habitat would entail sustainable development of the school," he said.
Technology and the Environment
Technology played an important role in the study. In particular, two applications were used to record observations and compile the data which can even be used to mobilize the Lasallian community in further research.
The study made use of SMART and and CyberTracker app. The CyberTracker created a mobile application to collect data with photographs of birds including audio of their calls as well as the location or coordinates. The observations were then transferred to the SMART software for reporting by tables, graphs and maps.
According to Pareja, the SMART app was a free app that was customized for the study so it is not impossible to use this method to involve students and faculty to report and record sightings in the future through this method.
Resident, Endemic and Rare Birds
| Scientific Name | Common Name |
| --- | --- |
| Butorides striatus | Little heron |
| Ardea albus/Egretta alba | Great egret |
| Egretta garzetta | Little egret |
| Amaurornis phoenicurus | White-breasted waterhen |
| Geopelia striata | Zebra dove |
| Streptopelia tranquebarica | Red turtle-dove |
| Otus megalotis | Philippine scoops-owl |
| Collocalia esculenta | Glossy swiftlet |
| Todiramphus chloris | White-collared kingfisher |
| Merops viridis | Blue-throated bee-eater |
| Psilopogon haemacephalus | Copper-smith barbet |
| Picoides maculatus | Philippine pygmy woodpecker |
| Hirundo tahitica | Pacific swallow |
| Pycnonotus goiavier | Yellow-vented bulbul |
| Oriolus chinensis | Black-naped oriole |
| Corvus macrorhynchos | Large billed-crow |
| Copsychus saularis | Oriental magpie-robin |
| Copsychus luzoniensis | White-browed shama |
| Gerygone sulphurea | Golden-bellied flyeater |
| Rhipidura nigritorquis | Pied fantail |
| Lanius cristatus | Brown shrike |
| Lanius schach | Long-tailed shrike |
| Acridotheres cristatellus | Crested myna |
| Cinnyris jugularis | Olive-backed sunbird |
| Dicaeum aeruginosum | Striped flowerpecker |
| Dicaeum austral | Red-kelled flowerpecker |
| Dicaeum pygmaeum | Pygmy flowerpecker |
| Zosterops nigrorum | Yellowish white-eye |
| Zosterops meyeni | Lowland white-eye |
| Passer montanus | Eurasian tree sparrow |
| Lonchura oryzivora | Java sparrow |
| Lonchura atricapilla | Chestnut munia |
| Lalage nigra | Pied triller |
| Cacomantis variolosus | Brush cuckoo |
---