Home | News | Thriving butterfly species in DLSU-D
---
Thriving butterfly species in DLSU-D
---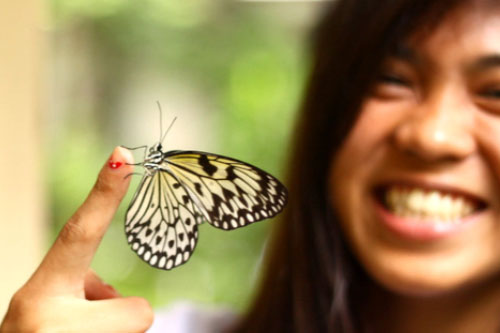 De La Salle University - Dasmariñas recently added more rare butterfly species in the roster of endemic and endangered wildlife spotted in the campus.Recently spotted in the DLSU-D Botanical Garden are Swallowtail Butterflies and the Magellan Birdwing.
Swallowtail Butterflies (scientific name: Papillionidae) are large beautiful butterflies usually found in the tropics. They exhibit Batesian mimicry in which they mimic or imitate other butterflies that are poisonous or distasteful to predators.
Meanwhile, the Magellan Birdwing (Troides magellanus Felder 1862) is one of the largest butterflies in the world. Found in the Philippines and Taiwan, it was named after Ferdinand Magellan who was killed in the Philippine Islands in 1521.
For those who are interested in getting up close and personal with these rare and stunning butterflies, discover more of them at the Botanical Garden's Butterfly Sanctuary, open on weekdays : 8:00-10:00 am and 2:00 to 4:00 pm, and Saturdays: 8:00-10 am.
---