Home | News | DLSU-D joins Laudato Si Gen – Pilipinas launch
---
DLSU-D joins Laudato Si Gen – Pilipinas launch
---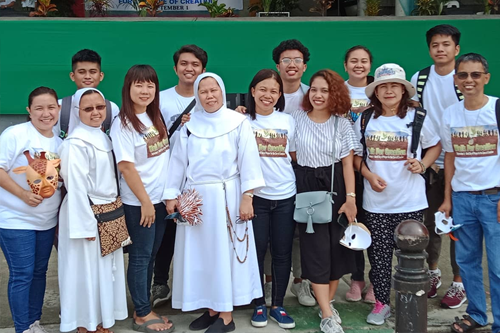 LS Verde members and faculty members of DLSU-D represented the university in the milestone launching of the Laudato Si Gen – Pilipinas last June 22 at the Hardin ng mga Bulaklak, Quezon City Memorial Circle.
The DLSU-D delegation was made up of Office of Student Services Dean Arch Antonio V. Gutierrez, whose office shouldered the transportation, food and accommodation costs; Campus Sustainability Office personnel Jocelyn Luyon and Elmer Hondo who served as faculty companions of LS Verde student volunteers Mhel Christian Ang, Marianne Bongcac, Tara Alyssa Ayentpo, Jarmaine Erika Mae Del Barrio, Deliza Rois Reyes, Mikaela Ruth Raro, and Ma. Angelica Lagdameo; CMO and Campus Peer Ministers faculty companion Ronante Angeles, CPM student volunteers Rafael Uriel Ramirez, Amiel Relox, Cyren faith Toledo, Elain Joyce Peji, Mary Claire Podiotan, and Adalin Fernandez.
Luigi John Atud also represented the CSO, Marvy Gomez and Jason Real for the University Student Government and Geamph Hate as faculty companion of ULFO.
According to the convenors of the event, the gathering seeks to raise awareness among young people on the current ecological and social crisis and their great role in bringing about change. It also encourages the youth to take concrete and radical actions to care for our Common Home and protect the most vulnerable members of society, individually and collectively.
The Laudato Si Pledge is a commitment to pray for and with creation, to live a simple lifestyle and to commit to advocacies to care for Earth, our Common Home. The Laudato Si Gen-Pilipinas is the local chapter of the Laudato Si Generation, the youth initiative of the Global Catholic Climate Movement (GCCM) to seek sustainable and integral development together and work together in building our Common Home.
The Laudato Si Gen-Pilipinas is a collective undertaking of GCCM-Pilipinas, the Catholic Bishops Conference of the Philippines - National Secretariat for Social Action (CBCP-NASSA)/Caritas Philippines, CBCP-Episcopal Commission on Youth, Student Catholic Action Philippines, Chiro Youth Movement Philippines, Our Lady of Remedies Parish, Malate, Manila, De La Salle Philippines, De La Salle University-Dasmarinas, La Consolacion College Manila, St. Scholastica's College Manila, San Beda College - Alabang, Philippine Women's University - Manila, Bantayog Initiative, Radio Veritas, Climate Reality Project, Philippine PCampus Sustainability Officeulture Association, Green Convergence and Upholding Life and Nature (ULAN)
---