Home | News | Climate Talk for extension officers
---
DLSU-D shares green innovations amid pandemic
---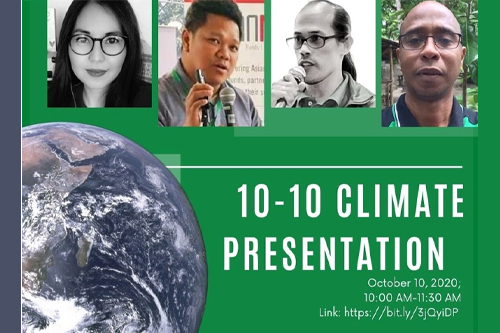 Administrators and faculty members from De La Salle University-Dasmariñas represented the university at the 6th International (Virtual) Workshop on UI GreenMetric World University Rankings.
Vice Chancellor for Finance and Administrative Sevices (VCFAS) Deodoro Abiog II, Campus Sustainability Office Director Joseph Dinglasan, and Campus Sustainability Office faculty member Jocelyn Luyon presented the topic: DLSU-D Green Innovations on Waste Management: Adoption of Greener Lifestyles in New Normal.
The three-day workshop was held through a Zoom Meeting and live stream on the UI Greenmetric YouTube Channel.
This year's event was centered on "Universities' Responsibility for Sustainable Development Goals and World's Complex Challenges" and sought to provide an avenue for participating universities to showcase their innovation and best practices relative to the latest issues in the management of setting and infrastructure, energy, waste, water, transportation, education and research in your green campus.
The UI Greenmetric Workshop also covered Green Campus Design in Universities, University Impact on the Sustainability of Urban and Rural Communities, and Innovations for Biodiversity Conservation in Universities in the parallel sessions.
---