Home | News | DLSU-D signs SDG accord
---
DLSU-D signs SDG accord
---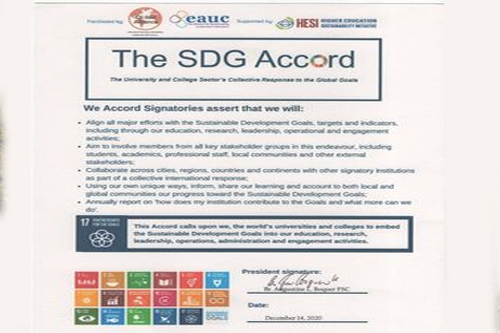 De La Salle University-Dasmariñas President Br. Gus Boquer FSC, EdD recently signed the SDG Accord as part of DLSU-D's commitment to embed the Sustainable Development Goals (SDGs) into its education, research, leadership, operations, administration and engagement activities.
The accord which was signed by Br. Gus last December 14, commits to the following:
Align all major efforts with the Sustainable Development Goals, targets and indicators, including through our education, research, leadership, operational and engagement activities;
Aim to involve members from all key stakeholder groups in this endeavour, including students, academics, professional staff, local communities and other external stakeholders;
Collaborate across cities, regions, countries and continents with other signatory institutions as part of a collective international response;
Using our own unique ways, inform, share our learning and account to both local and global communities our progress toward the Sustainable Development Goals;
Annually report on 'how does my institution contribute to the Goals and what more can we do'.
For close to two decades, DLSU-D has been at the forefront of adopting sustainability practices and integrating it into the University's various projects and initiatives. DLSU-D is recognized by the UI Greenmetric World Ranking as the top Philippine university in terms of advancing environmental protection and sustainability practices since it joined the ranking in 2013.
For more about the University's sustainability endeavors, check out our Sustainable DLSU-D microsite
---