Home | News | DLSU-D reps join Walk for Creation
---
DLSU-D reps join Walk for Creation
---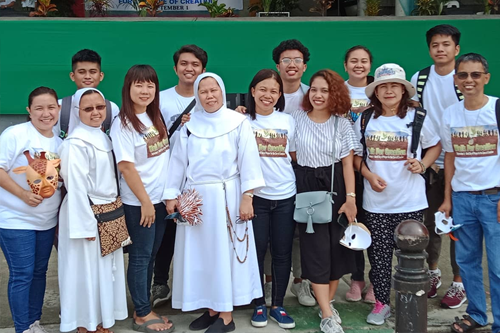 Members of the DLSU-D community represented the University in the recently held the Walk for Creation at the Liwasang Aurora, Quezon City Memorial Circle. The Walk for Creation is the opening event of the annual celebration of the Season of Creation which will have the theme: "The Web of Life."
A festive and symbolic "Walk for Creation" representing and reflecting the unique gift of each being/creature in the Web of Life seeks to celebrate the "wonder and awe before God's gifts, and the reconciliation that the Creator so desires for all of Creation" (Laudato Si', Chapter 2: Gospel of Creation). The event concluded with the launching and commitment signing for a concrete and sustainable action that addresses the challenge of the current ecological crisis by all participating organizations, institutions and individuals, dubbed as "Caring for Our Web of Life."
For the last two years, the Global Catholic Climate Movement-Pilipinas, the official chapter of Global Catholic Climate Movement, has initiated the Walk for Creation to celebrate the World Day of Prayer for the Care of Creation.
The Catholic Bishop Conference of the Philippines, in its plenary in July, issued the Pastoral Letter "An Urgent Call to Ecological Conversion, Hope in the Face of Climate Emergency" to highlight the urgency to respond to the call of Pope Francis in Laudato Si', to care for our common home. In this pastoral letter, the CBCP continues to commit to celebrate the Season of Creation as a way of integrating ecological advocacy with the prayer and liturgical life of the church.
Among those who joined the Lasallian delegation were Campus Sustainability Office, LS Verde, FMIJ Sisters, ReEd, ULFO, Hate Family, CMO, CPM & OSS representatives. The DLSU-D BGM Program Council headed by Friday Galvez also crafted the masks that the delegates used during the event.
---