Home | News | DLSU-D to host next symposium on zero waste
---
DLSU-D to host next symposium on zero waste
---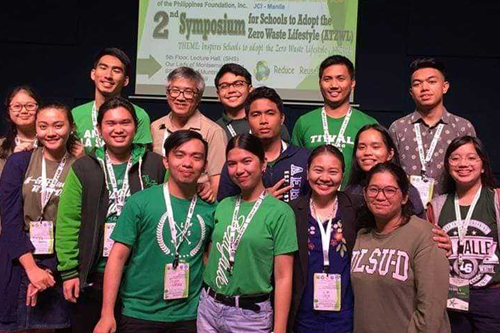 De La Salle University-Dasmariñas will be the host of the 3rd Symposium for Schools to Adopt the Zero Waste Lifestyle (ATZWL) in January, 2020. The challenge was accepted by the University during the turnover of the symposium chairmanship from San Beda-Alabang to DLSU-D last month.
The turnover was part of the activities of the 2nd Symposium for Schools to Adopt the Zero Waste Lifestyle (ATZWL) with the theme: "Inspires Schools to Adopt the Zero Waste Lifestyle through the 5Es Strategy: Education, Engineering, Enforcement, Entrepreneurship and Eco-valuation" held at the San Beda College Alabang Campus last January 31.
The symposium, attended by students from partner schools discussed key topics like the 5 Es strategy education on waste as a resource; low cost, low tech and local technology; positively motivating people to inspire cooperation on zero waste practices; livelihood recycling and ecological solid waste management. Students of San Beda College-Alabang also demonstrated how their students adopt zero waste strategies in campus.
Among the delegation who attended the symposium were OVCAS Deodoro Abiog II, who represented Br. Gus Boquer, FSC, in the turnover of the chairmanship; Jocelyn Luyon from the Campus Sustainability Office and students Darren P. Maristela (CBAA), Kenneth Ramasta (CSCS), Maraiah Martino (CEAT), Ma. Zarah Ysabelle Santos (CEAT), Klinth Angcao (CCJE), Jose Reynaldo G. Villaroel(USC/CLAC), Jason Real (USC/CEAT), Ivan Joshua Ladaga(USC/CLAC), Athila Surtido (Junior High School), Dreamdith Therese Dy (Senior High School), Marvy Gomez (COEd), Kent Laurenze Valiente (CTHM) and Samantha lsabella Miclat (CTHM). The expenses of the delegation for registration and transportation were funded by the OSS under Arch. Antonio Gutierrez.
---