Home | News | DLSU-D commits to zero-carbon by 2050
---
DLSU-D commits to zero-carbon by 2050
---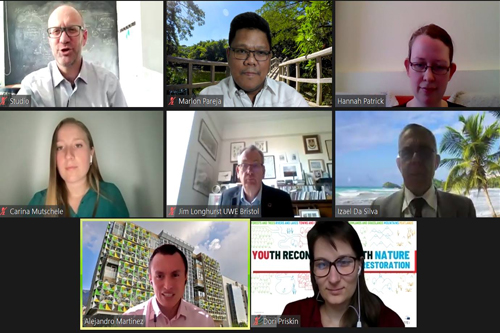 DLSU-D is the first Philippine university to commit to net-zero carbon emissions by 2050.
DLSU-D SHS Vice Principal Marlon Pareja, Associate Professor for Biology and former director of the Environment and Resource Management Office , represented the University for the panel sessions on Universities Going Net Zero Carbon during the Climate Expo Conference.
The event was spearheaded by the Environmental Association of Universities and Colleges, UNEP, and Cambridge University Press where environment experts from different universities were invited to become members of the panel.
Climate Exp0 is the first conference from the COP26 Universities Network and the Italian University Network for Sustainable Development (RUS), working together to raise ambition for tangible outcomes from the 2021 UN Climate Change Conference (COP26).
Supported by UK Research and Innovation (UKRI), Cambridge University Press, and the Conference of Italian University Rectors (CRUI), Climate Exp0 is part of the official All4Climate Pre-COP program and will showcase the latest thinking and most relevant international research relevant to decisions being made at COP26 in November around five key themes.
Among the other panelists were Associate Professor Jose Alejandro Martines, a researcher in sustainability and circular economy, Universidad Ean of Colombia; Professor James Longhurst, Deputy Vice Chancellor, the University of the West of England, UK, and Dr. Izael da Silva, Deputy Vice Chancellor of Strathmore University, Kenya.
"DLSU-D's invitation and participation to the climate expo as a panelist with climate experts and university leaders around the world as participants is a testament of the organizers of DLSU-D's efforts to attain a net zero-emission. We started in 2011 with our Black Out Green In - Project Carbon Neutral campaign and made significant progress in adopting sustainable policies, processes, and research. We need to sustain these initiatives as committed by our Brother president to attain net-zero by 2030," Pareja said.
Last year, DLSU-D joined institutions in the world that signed the SDG Accord, which is a commitment learning institutions are making to one another to do more to deliver the goals, to annually report on each signatory's progress, and to do so in ways which share the learning both nationally and internationally.
For eight consecutive years, DLSU-D was ranked as the greenest university in the Philippines based on the Greenmetric World Ranking of Universities.
Encourage your universities also to sign-up and commit: https://www.sdgaccord.org/race-to-zero-for-universities-and-colleges ...
---