Home | News | Lasallians aim for Sustainable Communities
---
Lasallians aim for Sustainable Communities
---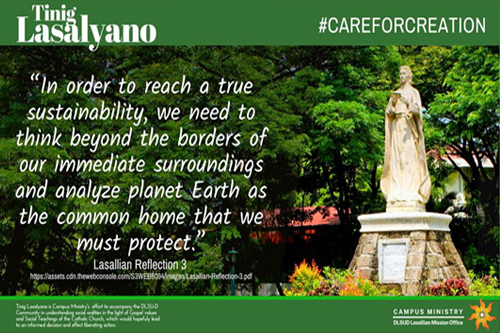 De La Salle University-Dasmarinas joins nations in celebrating Environment Day on June 5th with the theme "Only One Earth."
The University expresses its solidarity with the world as it faces the triple threat of global warming, habitat loss, and continued pollution of air, water and land.
DLSU-D also supports the global call for societies to become more inclusive, fair and connected with nature.
As one of the most sustainable universities in the Philippines, DLSU-D has been actively engaging efforts to promote and achieve the Sustainable Development Goals (SDGs) crafted by the United Nations into all aspects of its operations. It has also incorporated sustainability into its curriculum to help mold future leaders and global citizens who are conscious of their environmental impacts and their power to spur transformation.
In the universe are billions of galaxies,
In our galaxy are billions of planets,
But there is #OnlyOneEarth.
Let's take care of it.