---
The Bachelor of Science in Computer Engineering program is a conglomeration of various elements of Electrical Engineering and Computer Science and prepares students for a career as project manager, project engineer, network systems administrator, network systems manager, network systems engineer, data communications engineer or systems manager.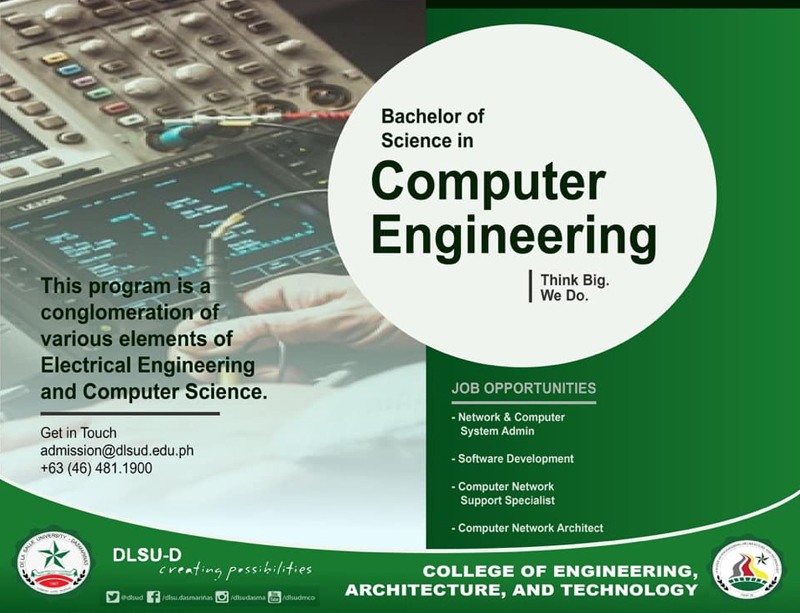 Bachelor of Science in Computer Engineering
Program Educational Objectives
Technical Skills. Computer engineering graduates will become successful professionals with competence in solving complex technical problems, able to innovate, operate, and adapt effectively to a new and shifting technologies in a diverse, global environment.
Thinking Skills and Judgment. Graduates will proactively demonstrate critical thinking, integrity and make decisions relevant to the global issues in business, ethics, society and the environment by applying their fundamental knowledge and experience of being an ethical engineering professional.
Leadership. Graduates will be able to apply their communication skills in all fields of learning, and have their inter-personal skills engage-in, lead, and nurture diverse teams to effectively promote ideas, goals, or products.
Attitude. Graduates will remain committed to lifelong learnings, pursue advanced degrees in computer engineering or other professional and academic fields and be able to serve in leadership positions in industry, academia, or government and courageously embrace global challenges and opportunities to make a positive impact in society.
Program Outcomes
By the time of graduation, the students of the program shall have the ability to:
apply knowledge of mathematics, science, and engineering to solve complex engineering problems;
identify, formulate, and solve complex engineering problems;
solve complex engineering problems by designing systems, components, or processes to meet specifications within realistic constraints such as economic, environmental, cultural, social, societal, political, ethical, health and safety, manufacturability, and sustainability in accordance with standards;
design and conduct experiments, as well as to analyze, and interpret data, and synthesize information to provide valid conclusions for investigating complex problems;
use the techniques, skills, and modern engineering tools necessary for engineering practice in complex engineering activities;
apply knowledge of contemporary issues and the consequent responsibilities relevant to professional engineering practice;
understand the impact of professional engineering solutions in societal and environmental contexts and demonstrate knowledge of and need for sustainable development;
apply principles of ethics and commit to professional ethics and responsibilities;
function effectively as an individual, and as a member or leader in diverse teams and in multi-disciplinary settings;
communicate effectively on complex engineering activities with various communities including engineering experts and society at large using appropriate levels of discourse;
demonstrate knowledge and understanding of engineering and management principles and apply these to one's own work, as a member and leader of a team, to manage projects and in multidisciplinary environments;
recognize the need for, and prepare to engage in lifelong learning.
Calculus 1 for Engineers
Applied Engineering Mathematics
Engineering Data and Analysis
Calculus 2 for Engineers
Differential Equations
Chemistry for Engineers 1 - Lecture
Chemistry for Engineers 1 - Laboratory
Physics for Engineers - Lecture
Physics for Engineers - Laboratory
Applied Engineering Mathematics
Computer-Aided Drafting
Engineering Economics
Engineering Management
Technopreneurship
Fundamentals of Electrical Circuits
Fundamentals of Electrical Circuits Lab
Environmental Science and Engineering
Fundamentals of Electronic Circuits
Fundamentals of Electronic Circuits Lab
Fundamentals of Mixed Signals and Sensors
Fundamentals of Mixed Signals and Sensors Lab
Computer Engineering as a Discipline
Programming Logic and Design
Introduction to Computational Thinking
Introduction to Computational Thinking Lab
Data Structures and Algorithms Lec.
Data Structures and Algorithms Lab.
Discrete Mathematics
Numerical Methods
Numerical Methods Lab
Object Oriented Programming Lec.
Object Oriented Programming Lab.
Logic Circuits and Design
Logic Circuits and Design Lab
Computer Engineering Drafting and Design
Database Management Systems
Database Management Systems Lab
Data and Digital Communications
Data and Digital Communications Lab
Introduction to HDL
Introduction to HDL Lab
Feedback and Controls Systems
Microprocessor Systems
Microprocessor Systems Lab
Methods of Research
Computer Organization and Architecture
Computer Organization and Architecture Lab
Digital Signal Processing
Digital Signal Processing Lab
Basic Occupational Health and Safety
Operating Systems Lec.
Operating Systems Lab.
Embedded Systems
Embedded Systems Lab
Software Engineering and Management
Software Engineering and Management Lab
CpE Practice and Design 1
Computer Networks and Security Lec.
Computer Networks and Security Lab.
Web Design and Development
Web Design and Development Lab
CpE Laws and Professional Practice
CpE Practice and Design 2
CpE Seminars and Fieldtrips
On the Job Training (at least 240hrs.)
Emerging Technologies in CpE
Systems Administration Fundamentals
Systems Administration Fundamentals Lab
Managing Enterprise Servers
Managing Enterprise Servers lab
Enterprise Security
Enterprise Security Lab
Computer Graphics
Computer Graphics Lab
Game Design and Development
Game Design and Development Lab
Digital Image Processing
Digital Image Processing Lab
Mobile Application Development
Mobile Application Development Lab
Introduction to Big Data
Introduction to Big Data Lab
Microservices Architecture
Microservices Architecture Lab
Mathematics in the Modern World
Understanding the Self
English for Purposive Communication
Science, Technology and Society
Arts Appreciation
Ethics
Technical Writing
The Contemporary World
Ang mga Babasahin Hinggil sa Kasaysayan ng Pilipinas
Diskurso sa Filipino
Classic Literatures of the World
Pagsasaling Teknikal sa Larangang Akademiko
Literatures of the World and its Effect to Development
Mandated Courses and Institutional Requirements
Kursong Rizal
Physical Fitness & Self-Testing Activities
Individual-Dual Sports/ Dance
Team Sports
Towards One Goal: Social Transformation
Community Service by Focus Programs: Health, Education, Livelihood, Pastoral and Self-Governance (HELPS)
English in a Lasallian Context
Our Christian Faith and Lasallian Identity
The Authentic Lasallian Learner
Christian Discipleship in the Modern World
Christian Commitment in Contemporary Society
The Catholic Social Teaching and Our Social Responsibility
An applicant who has completed Senior High School and has not taken any college course, or
An applicant who has completed equivalent Secondary Education from any school abroad and has not taken any college course, or
A passer of Alternative Learning System (ALS) with certification of eligibility to be admitted to college.
An applicant who has taken college programs or units not more than 75% of his/her curriculum in other CHED recognized colleges or universities, or
An applicant who has taken college programs or units not more than 75% of his/her curriculum in colleges or universities abroad, OR
An applicant who has taken vocational or any special training in recognized colleges or universities abroad, OR
An applicant who has officially enrolled in any degree or certificate programs after High School.
An applicant who has completed any college degree from any CHEd recognized college or university, or
An applicant who has completed any college degree from college or university abroad.
The College conforms to the institutional policies for admitting freshmen. Particularly for BS Architecture, freshman applicants should pass the skills assessment interview that would be conducted by the Department Chair.
A student who intends to shift to any of the programs of the College should have a GPA of at least 80% (or 2.0 in the numerical grading system) and pass the interview and qualifying examination conducted by the Dean/Chair or his/her designate.
Applicants should pass the interview conducted by the Dean of the College and the college entrance test administered by the Institutional Testing and Evaluation Office, and meet other requirements that may be set by the college. A transferee shall be placed on probation for one semester. If he/she performs well in academics and manifests satisfactory behavior, transferees would be considered "regular status" the following semester.
Standard Policy and Requirements for Shiftees and Transferees
A shiftee/transferee from other colleges and/or universities may be qualified for admission to any of the programs offered by the Engineering Department of the College of Engineering, Architecture and Technology provided that:
There is an available slot.
He is of good moral character.
He has not taken more than 50% of the total number of units of his respective course from another college.
He should have at least a GPA of 2.00 or its equivalent from other universities.
He should pass the interview and the qualifying examination conducted by the respective program coordinator.
He should pass the college entrance test administered by the Institutional Testing and Evaluation Office.
He should be placed under the PROBATIONARY STATUS for one year. A waiver provided by the CEAT should be signed by the student and his/her guardian prior to enrollment.
All major subjects taken from other universities with the same number of units and description with the program offered by CEAT will be credited provided that the university from which they have enrolled to is at least a Level 2 accredited school.
Major subjects taken from a non-level 2 accredited schools will be credited only if the transferee passed the verifying examination given by respective program coordinator for each major subject to be credited.
A student who could not enroll in the current semester should file a leave of absence with the Office of the College of Engineering, Architecture, and Technology. The application for LOA must be endorsed to the respective program coordinator and the Department Chair by the respective adviser.
A student who failed to file a leave of absence will be given PROBATIONARY STATUS for one year upon his return; that is if there is still an available slot.
Grade Point average (GPA) requirement and allowable failure
| | | | |
| --- | --- | --- | --- |
| GPA Requirement (including summer term) | At least 1.50 | At least 1.25 | (immunity status) |
| Maximum Allowable Failure | One (1) subject in one semester | Two (2) subjects in one semester | (immunity status) |
Other grounds that may cause disqualification:
Commitment of major offense as stipulated in the Student Handbook
Three consecutive failures in any Mathematics, Science or Professional subjects
Accumulation of more than 24 units failing grades
Non-participation in the required collegiate or university activities