Home | News | Thriving butterfly species in DLSU-D
---
Philippine Scops-owl rescued in DLSU-D
---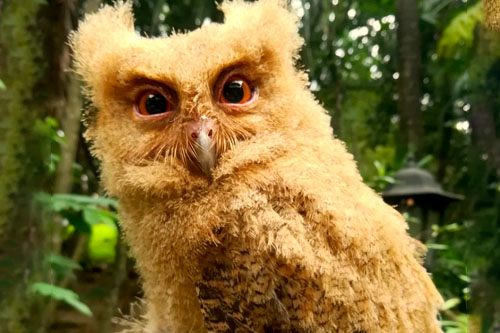 A Philippine Scops-owl, a bird species endemic to Luzon was recently rescued and released in De La Salle University-Dasmariñas after it fell off its nest near Museo de La Salle.
According to Corporate and Executive Management Office (CEMO) Riche Bongcaron, he found the juvenile Philippine Scops Owl just when he was about to park his car near the Br. Gus Boquer FSC Cultural Heritage Complex. He recounted that he suddenly stopped when he saw something brown falling from above.
Upon closer inspection, Bongcaron said that it was an owlet so he sought the help of one of the university's housekeepers in trying to catch the bird. He said it seemed like it was injured because it seemed to limp away as it tried to flee from the humans who were trying to help him. Eventually, the bird was gently secured. Bongcaron sought the help of the Campus Sustainability Office and the Biological Science Department for assistance.
SHS Assistant Director and former Campus Sustainability Office Director Marlon Pareja and SHS faculty member Nian Beceril were the first to the respond.
Pareja and Beceril, who were both part of the University's research team on DLSU-D's avian population, helped assess and identify the animal and ensured that he suffered no injury before he was released back to its natural habitat with some help. He was named Juan by Mr. Bongcaron prior to release.
"A juvenile endemic Philippine Scops Owl was rescued inside DLSU-D earlier as it was seen by Sir Riche Bongcaron near the Museo fell from its perched tree. I hurriedly documented the owl and did a quick morphometric measurements. The juvenile owl was properly handled and released back to its habitat (nest) at exactly 6:00 pm. It was named 'Juan' by Sir Riche Bongcaron. This rare sighting inside DLSU-D shows how diverse the avian species and the need to establish DLSU-D as an urban biodiversity corridor!" Berecil, who took photos of the owlet, said.
"The Luzon Lowland Scops-owl is endemic to Luzon or found only in Luzon and nowhere else in the world and its population is decreasing due to urbanization. To find an endemic bird in DLSU-D that is set in an urbanized area like Dasmariñas City is a treat," Pareja said. "Owls are basically carnivores or downstream in the food chain. This means that our university has a healthy ecosystem to be their habitat."
---