---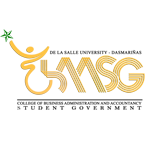 The De La Salle University-Dasmariñas College of Business Administration and Accountancy Student Government (CBAASG), also known as the Home of Achievers, was founded on May 1, 2013. It is the supreme governing student body in the College of Business Administration and Accountancy. It grounds direct various activities, events, and initiatives inside the program which generate opportunities for student engagement, nurturing talent, skills, knowledge, and shared interests. The student government recognizes students' concerns and ideas to precisely represent all the students within the organization. Our motive is to organize, promote, inform, participate, and encourage all students.
Objectives
To instill a sense of civic responsibility, social commitment, and moral accountability through social activities.
To amplify the voice, thoughts, and as well as concerns of the CBAA student community.
To encourage the personal growth of student leaders and cultivate their passion for leadership.
Vision
The CBAASG envisions the collective development of globally competitive business professionals in pursuit of producing achievers of the highest standards.
Mission
CBAASG aims to create an environment that uplifts every aspect of the student body, particularly in honing our future leaders.