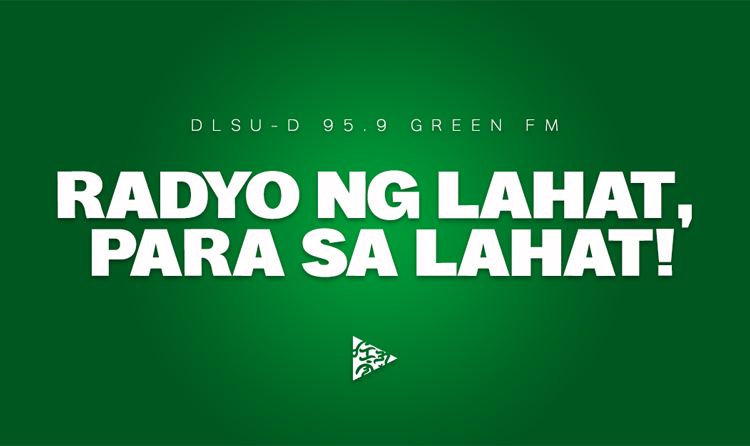 ---
Station Profile
DWSU 95.9 Green FM La Salle Radio is the university radio station of De La Salle University-Dasmarińas (DLSU-D) managed by the Communication and Journalism Department (CJD) under the College of Liberal Arts and Communication. Its operations are supervised by a faculty station manager and a student management team.
The radio station has been on air since 2005 and operates at 10-20 watts power with a temporary permit from the National Telecommunications Commission.
Programming is an FM-AM hybrid format with music and entertainment shows, regular newscasts, and public affairs talk shows jointly hosted and produced by student broadcasters, faculty and university organizations. The station regularly broadcasts live shows Mondays through Fridays, from 9 AM – 5 PM.
The station logo illustrates the close attachment of the radio station to the community audience, depicting its mission to serve the university community. The logo work was created for Green FM as a gift by visual artist, Aman Santos. The tagline "Basta Radyo, Dito Ka!" was created by former Green FM News and Public Affairs Program Director, Allan Francisco, depicting the station vision for the university community to consider the university radio as its primary choice for radio listening.
Milestones
Special coverage outside the regular broadcast hours have been part of the programming of Green FM, such as live field reportage from the President's State of the Nation Address, visiting state officials, people's assemblies and marches, the campus visits of several local and national personalities, as well as interviews with international visitors from Lasallian universities.
Green FM marked its 10th Year of Lasallian Service in 2015 after it first went on air in August 2005.
The station management aired week-long homecoming shows in August 2015 to mark the anniversary by having Green FM alumni announcers and disc jockeys coming back on air to host or report the news live from the Green FM studios and remotely via national phonepatch, and for those out of the country via internet calls, including former YES FM DJs Chico Loco and Maria Maldita, former iFM DJ King Spider, former TV 5 reporters Alexa Reyes and Karen Keith, former DZUP News Head Allan Francisco, among others.
The student management team also presented the #GalingGreenFM 10th Year Anniversary Celebration and Gawad Radyo Awards Ceremony to recognize excellence in student broadcasting to current student and alumni managers, hosts, and staff.
In March 2016, Green FM marked another milestone by airing the Animo Channel which reached an estimated 300,000 households around Cavite province and parts of Metro Manila. Green FM continues to air its teleradyo newscasts and made-for-television versions of its programs on cable television.
Management
CJD faculty Aurora Quadra-Balibay has led the management of Green FM La Salle Radio as station manager since 2007 when she joined the university as a guest professional lecturer. Her credentials include over 15 years of community radio work in Cavite and Batangas, and national media work in Manila after studying at the University of the Philippines where she graduated from the College of Mass Communication.
The student management team is comprised of student broadcasters who have been intensively trained in broadcasting and journalism. The student team directly runs the programming, promotions, research and development, and operations departments of the station, along with Broadcast Management and Broadcast Journalism classes taught by its station manager and other faculty, under the supervision of CJD Chair Artin G. Umali.